St. Marys on the Hill Primary School
Learn to Love
Love to Recycle
The Eco-Schools programme provides opportunities to promote sustainable living and foster an environmental awareness throughout the school. We aim to link our actions through opportunities in curriculum subjects. Our major topic this year has been to develop the Health and Well-being of our pupils and staff and our minor topics are to promote Outdoor learning and Biodiversity. Alongside these topics we encourage the school community to continue with our aims to 'Reduce, Reuse and recycle' and remain as energy efficient as possible. We also try to provide opportunities for the children become familiar and learn about current environmental issues.
Eco Councillors for 2021-2022
Our School Eco Council for 2021-22 have now all been elected and taken up their positions on the Council.
It was fantastic to see so many pupils interested in joining the School Eco Council. This year one child from each P4-P7 class was selected to represent their class as a School Eco Councillor. We look forward to a busy year; primarily going for our third Green Flag.
Congratulations to our eight new councillors.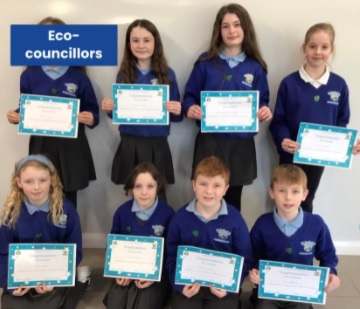 Eco Council Topics
Alongside our Eco Council, we also choose children from each class as Eco Warriors. We try to ensure that every child has an opportunity to be Eco warriors throughout the year so that our Eco mission is inclusive. These pupils carry out various duties every day, such as switching off lights and whiteboards, closing doors and checking taps. Their photos are displayed on the Eco Schools notice board in the assembly hall.
Our Major topic: Health and Well being
After conducting an Environmental Review, it was decided to concentrate on the major topic of Health and Well-being in our school community. This topic was very important this year with the challenges experienced during lockdown and the subsequent return to school. As part of this topic we have introduced several Well-being programmes such as 'Fresh Little Minds,' 'Neuronimo' and mindfulness sessions.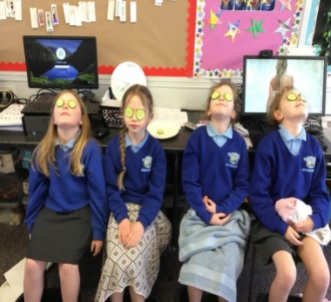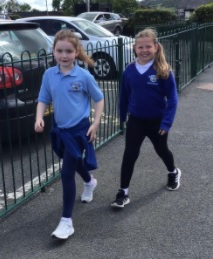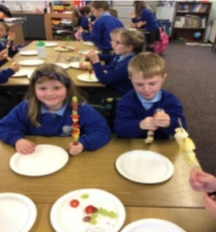 The two minor topics are Outdoor learning and Biodiversity. We have been strongly promoting Outdoor learning in our Foundation stage and Key one groups (each class aims to go outside at least twice a week) alongside this Key stage 2 classes are encouraged to use the outdoor space more effectively for learning across the curriculum.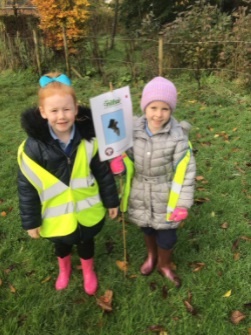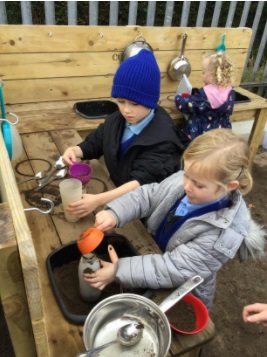 Planting seeds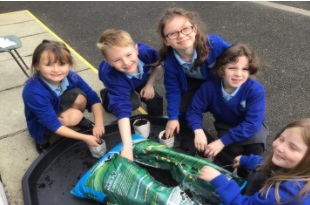 Alongside these topics we will continue to promote different ways of recycling within the school and reduce the amount of waste we send to landfill. Our Eco Warriors will have a prominent role in the reduction of energy usage within our school on a daily basis.
Our application for our third Green Flag will be submitted by the 11th of March 2022.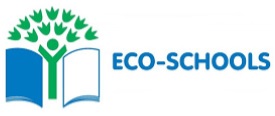 Eco Schools Upcoming activities
Ongoing; 'Walking Wednesday,' 'Neuronimo,' 'Outdoor learning'

The Eco Council have arranged a whole school 'Bird Watch' on the week beginning the 28th of February.
Collection of 'Adopt a Spot,' planting materials on 2nd March 2022.
The Eco council will meet again on Tuesday the 1st of March to carry out the environmental review and discuss new initiatives.
A paperless day has been organised for Tuesday the 8th of March.
P4 classes are entering a Bag Levy poster competition by 11th of March.
P4 classes will take part in 'Fast Fashion' 23rd of March workshop.

Whole school will take part in the 'Trocaire' Lenten campaign

Habitat for Humanity online workshop for P4. (Houses around the world)
Remember to give your ideas to your class Eco councillor. We love to hear the voice of all the pupils.
Mrs S Mc Convey
(World Around Us Co-ordinator)